Web Application Hosting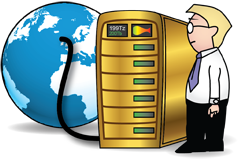 This is a fixed-price service for a dedicated server and unlimited Systems Administration. Suitable for all development, testing, staging and live environments of a powerful custom web application.
Includes
Dedicated, Managed Server for development, testing, staging and live hosting
Choose from a range of powerful, high-capacity servers.
Unlimited Sys Admin Support
From software installation to firewall configuration, working directly with the programming team to optimise your software's performance, resolve conflicts and write admin scripts - all your system administration needs taken care of: this is a hugely valuable service.
Unlimited Bandwidth
There's no cap on network traffic. And with a 100Mbps asynchronous network connection and thousands of network peerings, your website will be accessed fast and reliably from around the world.
Managed bug-logging
Management of a defect tracking system for your application's development.
Managed SVN repository
to keep a version-controlled repository of your application development.
Daily backup of your server
A customised back-up according to meet your exact requirements, to a dedicated backup server in an off-site data centre.
Daily security updates and continual security and error monitoring
We apply security updates overnight, every night and keep a continual (human-monitored) check on your server and website logs; as part of a comprehensive process to keep your website secure and fault free.
Performance and uptime monitoring
Round-the-clock custom monitoring of all you server's performance and availablity, using Zabbix monitoring.
Periodic OS upgrades
Keeping your server up-to-date with the latest supported version of your server's Operating System.
Includes any .co.uk domain
You can choose a new domain or transfer your own domain.
An SSL certificate (RapidSSL, Single Root Cert)
a Rapid SSL, Single Root Certificate, including installation and renewals.
Up to 8 dedicated IP addresses
to support server virtualisation and SSL certificates.
99.9% uptime guarantee
Monitored by Zabbix, which continually checks your website's
Minimum Contract: 3 months
Cancel any time before any month-end, after the initial 3 month term.