About SSL Hosting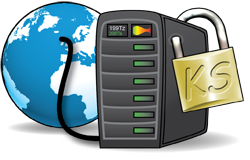 This is the hosting package you'll probably need if your website will pass sensitive information (such as credit card details) over the internet.
Includes
Includes any .co.uk domain
You can choose a new domain or transfer your own domain.
An SSL certificate (RapidSSL, Single Root Cert)
a Rapid SSL, Single Root Certificate, including installation and renewals.
A dedicated IP address
(required to support an SSL certificate)
5 GB Disk Space
Sufficient for almost all needs.
Daily backup of your web site
Unlike most providers who leave backups to their customers, you have the security of a nightly back-up of your entire website.
PHP, Perl, Python, MySQL Database
Includes the tools for running all popular web applications.
Daily security updates
We apply security updates overnight, every night; as part of a comprehensive process to keep your website secure.
99.9% uptime guarantee
Monitored by Zabbix, which continually checks your website's
Unlimited Network Traffic
There's no cap on network traffic. And with a 100Mbps asynchronous network connection and thousands of network peerings, your website will be accessed fast and reliably from around the world.
Minimum Contract: 3 months
Cancel any time before any month-end, after the initial 3 month term.
and Free Setup for our Web-dev customers!