About CMS Web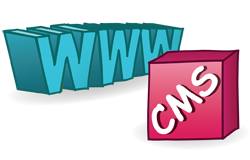 A Content Management System (CMS) gives dynamic content, personalised to each individual viewer.
After designing the look-and-feel to your specification, your staff can have their own user accounts to edit, review and publish content. That means you can maintain your own content without help from web authors.
There are a rich variety of modules available which cover everything from on-line shopping, customer mailing lists and user surveys to moon phases.
A CMS system for most applications can be completed with our "CMS Web" package. Some web sites may require a few days of ad-hoc development, and there are occasional projects which can require custom programming to meet project needs. We will confirm before starting the project whether the CMS Web package will fully meet your needs.
CMS Web includes
Business Analysis to understand your exact requirements
A Drupal CMS web site:

Create Home Page Design and configure functionality
Tailor any chosen template to your requirements
We will take you through an extensive catalogue of base designs (or you can provide samples of other websites). These designs can be customised as extensively as required to give you the website appearance you need.
Design up to 8 custom graphics
We will incorporate your existing logos, photo illustrations and corporate artwork used for your print advertisements and/or existing website, plus up to 8 custom graphics (such as illustations for each section of your CMS Web)
Install and configure up to 3 custom modules
We pack a lot of module functionality as standard in every project, and the standard package includes up to three extra modules to meet your requirements.
Provide up to 20 content pages
The Business Analysis will establish the sections and subsections required in your website. These may include blog-style pages, information summaries, gallaries, user surveys, contact forms and much more. We will include up to twenty sections and sub-sections within the CMS Web package, which is enough for almost all web-sites. Within these sections you will be able to create dozens or thousands of pages of your own content which will be automatically filed and indexed.
Up to 1,000 words of web content development
Most organisations provide their own content, but you may well want our technical or marketing authors to provide section introductions. (We can also offer extensive content authoring as ad hoc development if required.)
Access to your site on our development and training server throughout development
We develop your website on a development system and put it live when complete, after receiving your approval.
On-site or on-line training of author(s) and site manager(s)
We will prove training sessions to make sure your content author(s) and site manager(s) are confident in using the CMS.