Authoring Tools and Interactive Graphics
Graphical authoring tools are usually the centre-piece of a specialist website or stand-alone tools. They can allow users incredible powerful and versatile functionality and may used within an organisation, sold, licensed or accessed via subscription.

Every project of this kind will be completely unique. This page gives some examples from SportSessionPlanner.com's authoring tool for Match and Training Session authoring. But if you have a requirement, don't hesitate to get in touch to start the conversation.
SportSessionPlanner Case Study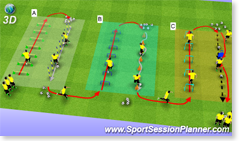 The SportSessionPlanner website offers coaches from different team sports a way to prepare and share training sessions, and log match action for their teams' fixtures. Sports Academies also have a Player Evaluation Tool which is currently used by a good proportion of the world's top football Clubs.
At the centre of this application is a graphical authoring tool for coaches to create and edit training sessions and matches; and a presentation viewer which allows the coach (or the public) to interact with the drills and matches in 3D.
Here's a sample screenshot from the Match Editor... click here to see it in action in a tutorial video, or click here to try out the Viewer for a prepared drill.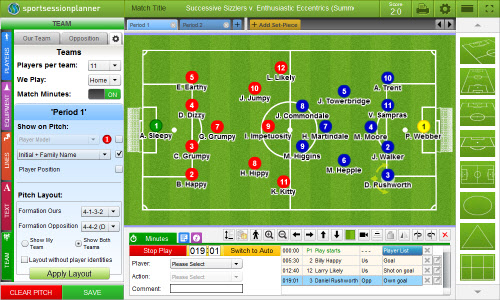 Coaches can add their teams, lay-out player formations, add set-pieces, log match action in real time, add action videos of the match itself, and use for post-match analysis. Altogether, it raises the bar in sports coaching, and coaches love it!